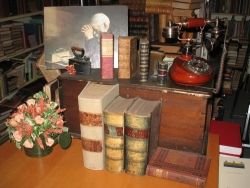 Chapter Two is the main source in the UK of second-hand books by so-called Plymouth Brethren. We also supply to customers in over 100 countries.
We both BUY and SELL sound titles. Please send us (Attention Priscille Brachotte) details of any titles you would like to sell. We buy from almost anywhere in the world.
Our second-hand book catalogue is available for download on the right-hand side of this page. Please contact us to be added to our mailing list and receive the catalogue and our special offers.
Please note that the demand for second-hand books is great. We always supply on a first-come, first-served basis.
We are happy to help with 'wants lists'. Please send us your requirements and we will do our best to help.
Chapter Two also operates an excellent Brethren History Archive of national significance. Its strengths are in the Kelly, Lowe, Continental and Glanton connections of the Brethren movement. The archive is open (by appointment only) for reference by bona fide researchers, students and authors.
If you are looking for out of print material which is only available in our archive, copies can be made - if the condition of the item permits copying - for a small fee.